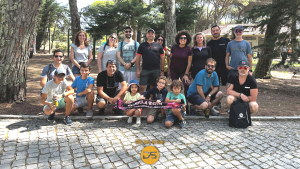 We gathered employees in an outdoor initiative….
With a spirit of true conviviality, Datasmart brought together employees in an initiative outside the work environment, which took us to the municipality of Cadaval, on June 25, 2023.
One of the secrets of well-being is to have moments of connection with nature and that is why DataSmart recently carried out its first outdoor walk, as a family, in the Serra de Montejunto.
We thank all employees and family members for their participation and good mood, and the guides Jorge and Ana from @noturnostrilhos for all the care and cheerful accompaniment in organizing this walk.
This initiative contributed to strengthening the employees' motivation (motivated employees are also happier at their jobs) and to promoting and strengthening team spirit and interpersonal and communication relationships.
It will certainly be an initiative to be repeated, so those who unfortunately could not be present will have plenty of opportunities.